Sectors we work in…
Fields we work in are all connected with new and more sustainable ways of living. Actually, we list them to facilitate browsing in our catalogue of projects but the approach of SDS sustainable innovation lab is rather transversal, looking for synergies between all these fields to foster paradigmatic changes rather than limitative sector approaches and thinking in silos…
---
CHILDREN | CITIES | CLOTHING | DESIGN  | ELDERLY | ENERGY | FOOD | FURNITURE | HEALTH | HOUSEHOLD | HOUSEKEEPING | HOUSING | MOBILITY | PACKAGING | POLICY INNOVATION | TECHNOLOGIES | WATER | WORK
---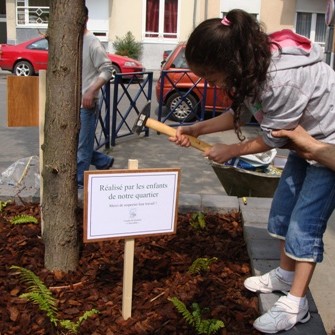 CHILDREN
SDS developed an experience with children based on very different projects from developing the LOLA teaching pack (LOLA) to approach sustainability by investigating social innovation to researches on pharmaceutical packaging and kids (Kids & drugs) implication in the observance of medical treatments and each time building on partnership with kids to enable change…
---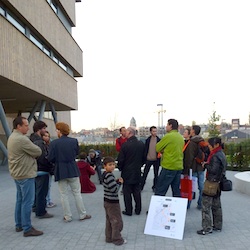 CITIES
Collaborating with Saint-Etienne (City Eco Lab) on kicking-off transition, with Malmö (OPM) on mobility, with Melbourne (Veil) on urban farming, with Lille (Residence Wazemmes) on engaging participation or with Brussels (Saint Gilles) on the dynamic of Agenda 21 shows how cities level is key when considering sustainable transition both because cities are a critical part of the problem but also because a certain feeling of belonging within a social density – especially for such medium-sized cities – enhance to take action both for local authorities…
---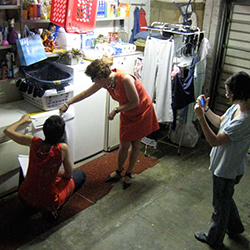 CLOTHING
We approach clothing from the point of view of its impact on the environment through research projects on sustainable household (Sushouse) and especially on clothing care and how the design of washing machines (ISEU, Indesit) may enhance changes in daily practices in term of hygiene and cleanness…
---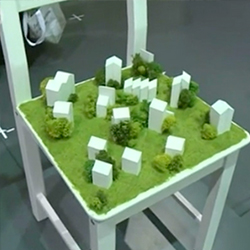 DESIGN
In the field of design itself, SDS is mainly contributing through investigating permanently new approaches and tools – Residences (territories en residences) as immersive design session in public institutions with La 27e Région or the design plan (MEPSS) and related design notation toolbox (HiCS) – or developing complete new design infrastructures – the LUPI (LUPI) Laboratory for Innovative Usages and Practices for La Cité du Design or the LDC (LDC K1) Laboratory for Cognitive Design for EDF R&D…
---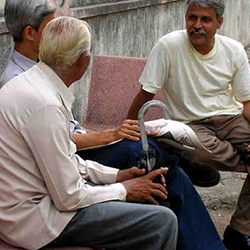 ELDERLY
Parallel or beyond the normal design for all inclusive principles – we explore in depth for instance in pharmacy (see "health") or food delivery (HiCS) areas – we pay attention to designing with seniors towards new status and roles in a sustainable society – observing the dynamic of elderly people in social innovations (CCSL)…
---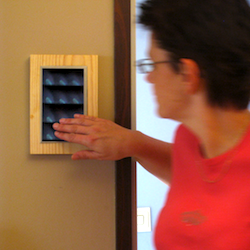 ENERGY
More than focusing efficiency of systems SDS investigates in particular on the ways the design of energy using products could influence and shift daily practices (ISEU) in using these products. SDS also explored how, through the delivery of highly tailored feedback to users about their energy consumption, we could engage users at household level in transforming their behaviours towards more responsible use of energy (NATCONSUMERS).
---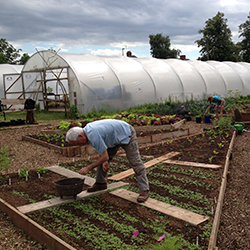 FOOD
Food provision is critical for sustainable transition and it is one of the fields where we have developed more investigations from exploring resilience of cities food policies (URBACT and the Good Food strategy of Bruxelles Environnement) development of new food network (Collaborative Services) and related policies (CORPUS) to questioning sustainability in the household preparation of food (SusHouse), neighbourhood collaborative organisations (Sustainable Everyday) or food delivery systems (HiCS).
---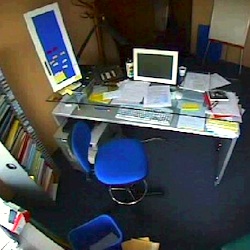 FURNITURE
In the furniture and space sectors SDS investigates mainly the innovation processes through European research projects focusing either user-centred scenarios (UCIM) to conception and production for European furniture SMEs or design-driven approaches in particular from North Italy companies that reveal completely breakthrough innovation behaviours (EvAN). SDS also developed spaces adapted for co-design and creative sessions (Centre National d'Etudes Spatiales, Service Public de Wallonie).
---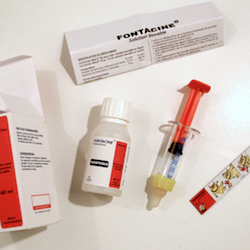 HEALTH
Projects developed in the health sector range from innovation in the pharmaceutical area (Praxilène) focusing how better usability could improve the observance of treatments to investigating rich mutual support dynamics of spontaneous social care networks (CCSL) and developing scenarios of augmented systems (Wireless Care / GuideMe / D3) where IT facilitate both autonomy and social cohesion…
---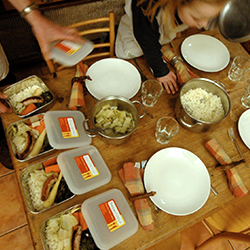 HOUSEHOLD
How to involve households to co-design more sustainable domestic solutions is a permanent investigation for SDS through European research projects (SusHouse / Collaboratives Services / SPREAD) or through specific sectors approaches on energy (ISEU / DHEP), mobility (OPM) or housing (CORPUS), energy use (NATCONSUMERS).
---
HOUSEKEEPING
Housekeeping is intended here as one of the important dimensions of sustainable living in the domestic environment where we investigate classical functions such as clothing care (SusHouse / ISEU), maintenance and repair (Sustainable Everyday) or do-it-yourself (Collaborative Services)…
---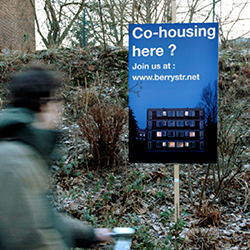 HOUSING
Sustainable housing is for us a key investigation field both because reduction of energy consumption (ISEU) is critical but also because housing is the platform for many promising sustainable dynamics from collaborative housing (Collaborative Services) to the development of multi-services centres close (Sustainable Everyday) at a walking distance from home…
---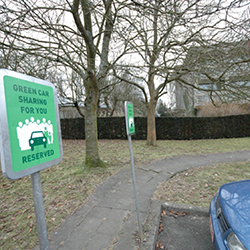 MOBILITY
Mobility is one of the most critical sector for sustainability where push and pull measures should be associated through systemic approach starting from users (OPM) and integrated design of new solutions with policy making (CORPUS)…
---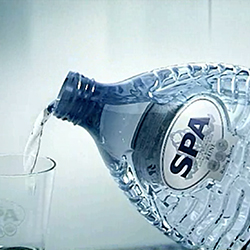 PACKAGING
Packaging played a particularly important role in raising sustainability awareness in the 90's and during this period we develop scenarios (Club Prospective Emballage) and curate public exhibitions (EMBALLAGE Villette) and professional events (Pack-Age). We have been also developing solutions using packaging as a tool to shift behaviours of patients to better observe pharmaceutical treatments (Praxilène) or of consumers in using large bottle of mineral water (SPA Rolling Bottle)…
---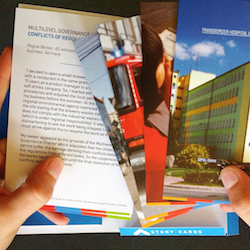 POLICY INNOVATION
Beyond product-service systems, the development of integrated solutions requiere to considere policy making likely to interferre with these solutions. SDS engage with the public innovation lab La 27e Region in applying design to support innovation for public authorities at regional level (La 27e Region) as well as exploring the (re)design of policy intruments such as support services to facilitate dissemination of multilevel governance (GMN) or to envision the possible evolutions  of Agenda 21 tools for local sustainable transition (scenarios A21).
---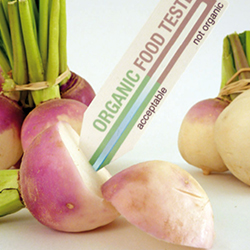 TECHNOLOGIES
Nanotechnologies seems to open endless perspectives of both most positive hopes and threatening risks: we use scenarios building (Nanoplat) and visioning techniques (Vision Lines 20) to prompt deliberative processes and enable social conversations on the perspectives…
---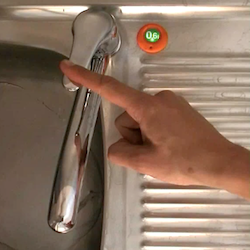 WATER
Lack of easy available water is a key sustainable issue worldwide with very important local disparities: we investigate scenarios (City Eco Lab) to foster a culture of economy domestic water, water harvesting in urban contexts, and co-design new services for water providing companies…
---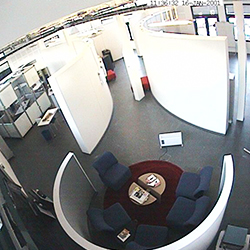 WORK
Our experience in rethinking work is ranging from investigating working conditions in augmented environments including topics such as distant collaborations, privacy protection, cognitive saturation… in office work (LDC) to co-animation of think tanks either questioning with facilities managers and architects the management by space and adaptive infrastructures (Rethinking Walls) or exploring with a group of human resources managers, scientists and consultants how to exit the crash of the social issues in private and public institutions (PLSA)…