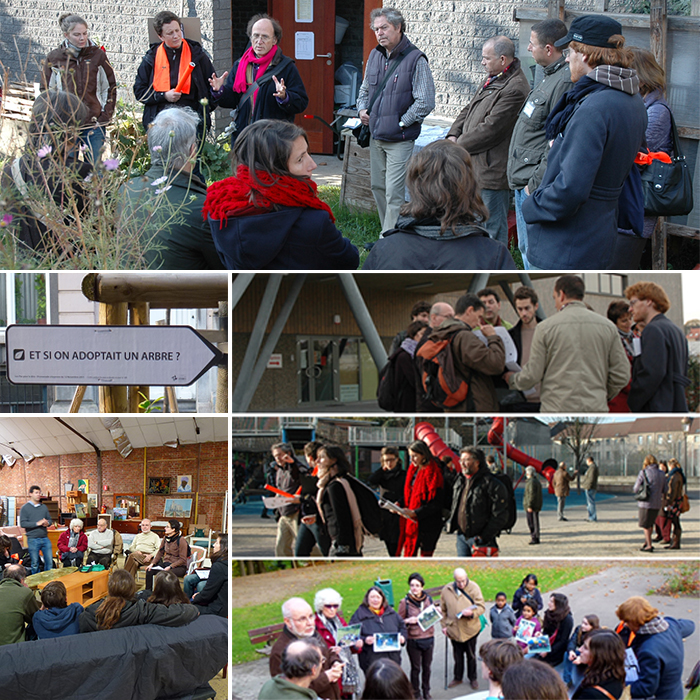 Participative organization of a series of citizens walks for the initial diagnosis phase of the new Agenda 21 process of the municipality of Molenbeek in the framework of Agenda Iris 21 local sustainability process of Brussels-Capital Region.
How can we foster participation of citizens in local sustainable transition processes?
The Brussels-Capital Region supports municipalities of the city to develop their Agenda 21 action plan trying to stimulate the participation of the population.
For the diagnosis phase of the starting Agenda 21 of Molenbeek municipality, SDS proposed to co-organize urban citizen walks across the neighbourhood as a way to involve all type of inhabitants in an on-site activity, exchanging on an everyday life basis rather than more conventional participation meeting format, rarely attracting the mix of populations expected.
Citizens were involved in the mapping of their neighbourhood. 3 walks were organized between key social and sustainable initiatives (my neighbourhood I don't know) and more difficult areas (my neighbourhood I know too much). Temporary signage boards mimicking official street signs were placed along the walk itinerary to engage a dialog about public space. A "speech-stick" including a digital recorder passed from hand to hands along the walk to keep track of interesting remarks and specific conversations.
---
Partners : 
EcoRes (BE)
IBGE Brussels-Environment (BE)
Strategic Design Scenarios (BE)
---
Link :

Promenades Agenda 21 (blog)
Read the booklet : Livrets des promenades