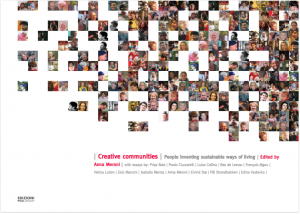 Collaborative Services
Social innovation and design for sustainability

AUTHORS
François Jégou, Ezio Manzini with essays by: Priya Bala, Cristiano Cagnin, Carla Cipolla, Josephine Green, Bas de Leeuw, Helma Luiten, Isabella Marras, Anna Meroni, Ruben Mnatsakanian, Simona Rocchi, Eivind Stø, Pål Strandbakken, John Thackara, Victoria Thoresen, Stefanie Un, Edina Vadovics, Philine Warnke, Adriana Zacarias.
PRESENTATION
What is a sustainable lifestyle? What will our daily lives become if we agree to change some of our routines? How do we reduce our environmental impact without lowering our living standards? Observations show that growing material wealth and levels of people satisfaction are increasingly uncoupled. Could the pursuit of more sustainable lifestyles also lead to better quality and more satisfaction? This book attempts to answer some of these questions. Mainly, it suggests a scenario: the Scenario of Collaborative Services.
"Car-sharing on demand", "micro-leasing system for tools between neighbours", "shared sewing studio", "home restaurant", "delivery service between users who exchange goods"… The scenario looks at how various daily procedures could be performed by structured services that rely on a greater collaboration of individuals amongst themselves. It indicates how, through local collaboration, mutual assistance, shared use we can reduce significantly each individual's needs in terms of products and living space and optimize the use of equipment, reduce travel distances and, finally, lessen the impact of our daily lives on the environment. The scenario also gives an idea on how the diffusion of organisations based on sharing, exchange, participation at the neighbourhood scale can also regenerate the social fabric, restore relations of proximity and create meaningful bonds between individuals.
To implement this scenario a new, different and fascinating role for the designers emerges: they have to consider themselves part of a complex mesh of new designing networks: the emerging, interwoven networks of individual people, enterprises, nonprofit organizations, local and global institutions that are using their creativity and entrepreneurship to take some concrete steps towards sustainability.
Collaborative services is based on a two-year study realised by a panel of universities, European research centres and international institutions within the framework of the EMUDE research project (Emerging User Demands in Sustainable Solutions) co-financed by the European Commission. In parallel to a first publication titled: Creative communities. People inventing sustainable ways of living that presents the main results of the EMUDE research project.
(March 2007)

*
DOWNLOAD