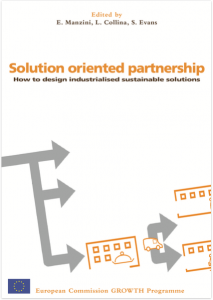 Solution Oriented Partnership
How to design industrialised sustainable solutions

AUTHORS
E. Manzini, L. Collina, S. Evans
PRESENTATION
Solution Oriented Partnership is about the conception and development of solutions. More precisely: it is about industrialised, contextualised, sustainable solutions that are produced and delivered by networks of partners: the solution-oriented partnerships. It is also about a new idea of industrialisation: an advanced industrialisation with the capacity to bring a multiplicity of players together to collaborate in an effective way, with a view to sustainable objectives.
The book is organised in two parts: Themes, that discusses the nature of partner-based solutions, and Tools, that introduces methodological tools for their conception and development,
Partner-based solutions arises from the activity of a group of research centres and European enterprises, funded under the European Community 5th Framework Programme. This research, known as HiCS, Highly Customerised Solutions, was an action research, the specific subject of which has been "food for people with reduced mobility". The results of the practical stream of this research are concrete proposals that are presented in a companion book, Food delivery solutions.
(March 2004)
*
DOWNLOAD
Click here to download the PDF.