SDS is what EU calls an 'agile structure'
The first step that we do in front of a new challenge is to constitute an ad-hoc partnership in the circle of close collaborators and round of structures with complementary competences to better serve the different and specific purpose of projects…
[In that section of the website you will find downloadable content about the key personnel of SDS. Mini-bios, Curriculum vitaes (Europass, short/long, etc.), pictures…]
KEY PERSONNEL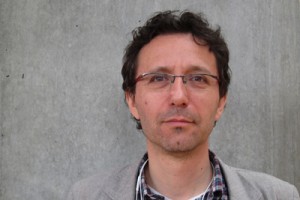 François Jégou / Director of SDS / design consultant / @sds_lab
[english mini-biography]
François Jégou created and leads the Brussels-based sustainable innovation lab Strategic Design Scenarios with 20 years of experience in strategic design, participative scenario building and new product-services system definition. François is active in various fields and research projects from investigating social innovation for sustainable living in China, India, Brazil and Africa with UNEP to European research projects focussing sustainable lifestyles 2050, exploring the future of innovation or building a deliberative platform on nanotech.
François is lead expert of an URBACT network of 10 European cities building their sustainable food governance, design manager of the LUPI the business user lab for the Cité du Design in St Étienne, France and partner of DESIS, the Design for Social Innovation and Sustainability network. He teaches strategic design at La Cambre design school, Brussels and is visiting professor at Politecnico, Milan and ENSCI, Les Ateliers Paris. His last publication: 'Sustainable Street 2030' is an eBook asking what might everyday life be like in a sustainable society? How would we eat food, move, work, and take care of each other?
[french mini-biography]
Designer Industriel de formation, François Jégou est fondateur de l'agence de recherche sur les modes de vie durables Strategic Design Scenarios basée à Bruxelles. François a 20 ans d'expériences de recherche, d'intervention en tant que consultant pour des entreprises et des pouvoirs publics et de formation sur les questions de modes de vie durables, innovation sociale, développement de systèmes complexes products-services-policies, la construction participative de scenarios prospectifs. Il intervient sur les processus de transitions écologique locaux au travers différents projets de développement, de prospective et d'évaluation des Agenda 21 en France et en Belgique ainsi que comme partenaire de multiples projets de recherche européens sur l'innovation sociale, la transition vers le développement durable des territoires, le futur de l'innovation ou la construction de processus délibératifs sur les nanotechnologies. François est le directeur scientifique du laboratoire d'innovation publique la 27e  Région en France et le coordinateur de DESIS Europe, la branche européenne du réseau d'écoles de Design pour l'Innovation Sociale et le Développement Durable. Il intervient comme Design manager du Laboratoire des Usages et Pratiques Innovantes de la Cité du Design de Saint-Etienne et enseigne à La Cambre (Bruxelles), l'ENSCI Les Ateliers (Paris) et au Politecnico (Milan). Il organise la plateforme www.sustainable-everyday.net, un catalogue de cas d'innovation sociale, de projets et de scénarios durable et collabore sur ces sujets avec le Programme des Nations Unies pour l'Environnement, le programme One Planet Mobility du WWF.
Downloads
EUROPASS Curriculum Vitae  [english-short version]
Curriculum Vitae [english-long version]
Christophe Gouache / Project Manager and design consultant / @sds_lab
[english mini-biography]
Project manager at Strategic Design Scenarios, Christophe studied industrial product design and responsible innovation and received his Master from The École de Design Nantes Atlantique, Nantes, France. His focus is on sustainable and social innovation, collaborative and participative scenario building, participatory foresight (prospective scenarios of future sustainable ways of living) and service design. He is working on various projects of public policy design and public innovation with regional authorities and ministries, as well as action-research projects at EU level (H2020). Lately, he has been collaborating with the French Ministry of Justice on the care of youth delinquents under Juvenile Justice or the French Ministry of Sustainability on designing tools that allow citizens and local elected officials to co-create future visions for local sustainable development programmes. Christophe also gives courses at INET (Strasbourg, France) and teaches "Public design and innovation" at Sciences Po (Lille).
 [french mini-biography]
Designer industriel de formation avec une spécialité en Innovation Responsable (Master à l'École de Design Nantes Atlantique, France), Christophe Gouache est consultant en design chez Strategic Design Scenarios. Il a dirigé un projet de communauté durable pendant six mois aux Philippines, à Davao, basé sur l'éco-conception de solutions alternatives low-tech et low-cost (biogaz, four solaire, composteur etc.) développé selon des méthodes participatives. Il a également initié, en partenariat avec la Ville de Nantes (France), un projet de design de services destinés à améliorer l'expérience de vie en maisons de retraite et foyers logements publics incluant dans le processus créatif les personnes âgées résidentes, le personnel et la collectivité locale en charge des établissements. Ses domaines de prédilection sont l'innovation sociale et durable, la création collaborative et participative de scénarios, le développement de visions prospectives et le design de services centrés utilisateurs. Enfin, il collabore régulièrement avec la 27e Région (laboratoire d'innovation publique) et a participé à la résidence sur les achats durables au Conseil Régional de Rhône-Alpes. Il travaille également sur la question de la prospective territoriale et transition durable via l'outil des Agendas 21. Plus récemment, il collabore avec la Protection Judiciaire de la Jeunesse du Ministère de la Justice sur les mineurs délinquants.
Downloads
CV_Europass-Gouache_EN [english]
CV_Europass-Gouache_FR [français]
Selam Mebrahtu / Design consultant
[english mini-biography]
Design Consultant at Strategic Design Scenarios, Selam holds a Bachelor's degree in Design and Applied Arts and a Master's degree in Design for Social Innovation from the University of Nîmes, France. She obtained certifications in social entrepreneurship and strategic management through online courses that enables her to lead innovative projects with a holistic approach and deeper insights about the complexity of service design. Prior to working with SDS, Selam worked at ACPF, a non-for-profit pan-African institute of research and policy dialogue for children in Africa. As InfoHub project officer, she was able to contribute in improving knowledge on children's rights with the conviction of making them a priority in public policies, to enforce their rights and ensure their well-being. Selam is currently working on different projects that address social and environmental innovation issues through innovative approaches and collaborative design with SDS. Within SDS' numerous projects, she participates in most of them but is mainly working on ECO2, a project funded from the European Union's Horizon 2020 research and innovation programme, whose aim is to help Europeans become aware of their energy consumption and improve their energy efficiency through an e-learning platform. She actively participates in La Transfo as well, a programme created and run by La 27e Région, in which Designer residents train regional administrations to co-create new ways of making policy and help them create in-house innovation labs. Through her recent publication, Participatory Design and Gamification (2017, University of Nîmes), she outlines how these two disciplines can be complementary and how gamification can become an asset in enriching participatory design tools and processes. Her fields of interest are social innovation, collaborative prospective scenario building and the design of user-centric services.
Consultante en design chez Strategic Design Scenarios, Selam est titulaire d'une licence en design et arts appliqués et d'une maîtrise en design pour l'innovation sociale de l'Université de Nîmes, France. Elle a obtenu des certifications en entrepreneuriat social et en gestion stratégique à travers des cours en ligne lui permettant de mener des projets innovants avec une approche holistique et une meilleure compréhension de la complexité du design de services. Avant de travailler chez SDS, Selam a travaillé pour ACPF, un institut panafricain de recherche et de dialogue sur les politiques pour les enfants en Afrique. En tant que chargée de projet InfoHub, elle a pu contribuer à améliorer la connaissance des droits de l'enfant avec la conviction de faire des enfants une priorité dans les politiques publiques, faire respecter leurs droits et d'assurer leur bien-être. Selam travaille actuellement sur différents projets qui traitent des problèmes d'innovation sociale et environnementale par le biais d'approches innovantes et d'une conception collaborative avec SDS. Au sein des nombreux projets de SDS, elle participe à la plupart d'entre eux, mais travaille principalement sur ECO2, un projet financé par le programme de recherche et d'innovation Horizon 2020 de l'Union européenne, dont le but est d'aider les Européens à prendre conscience de leur consommation d'énergie et à améliorer leur efficacité énergétique à travers une plateforme d'apprentissage en ligne. Elle participe également à La Transfo, un programme créé et géré par La 27e Région, dans lequel des Designer résidents aident les administrations régionales à développer de nouvelles méthodes de formulation des politiques et à créer des laboratoires d'innovation en internes. Dans sa récente publication, Participatory Design and Gamification (2017, Université de Nîmes), elle explique comment ces deux disciplines peuvent être complémentaires et comment la gamification peut devenir un levier pour enrichir les outils et processus de Design participatif. Ses champs d'intérêt sont l'innovation sociale, la co-création de scénarios prospectifs et la conception de services centrés sur l'utilisateur.