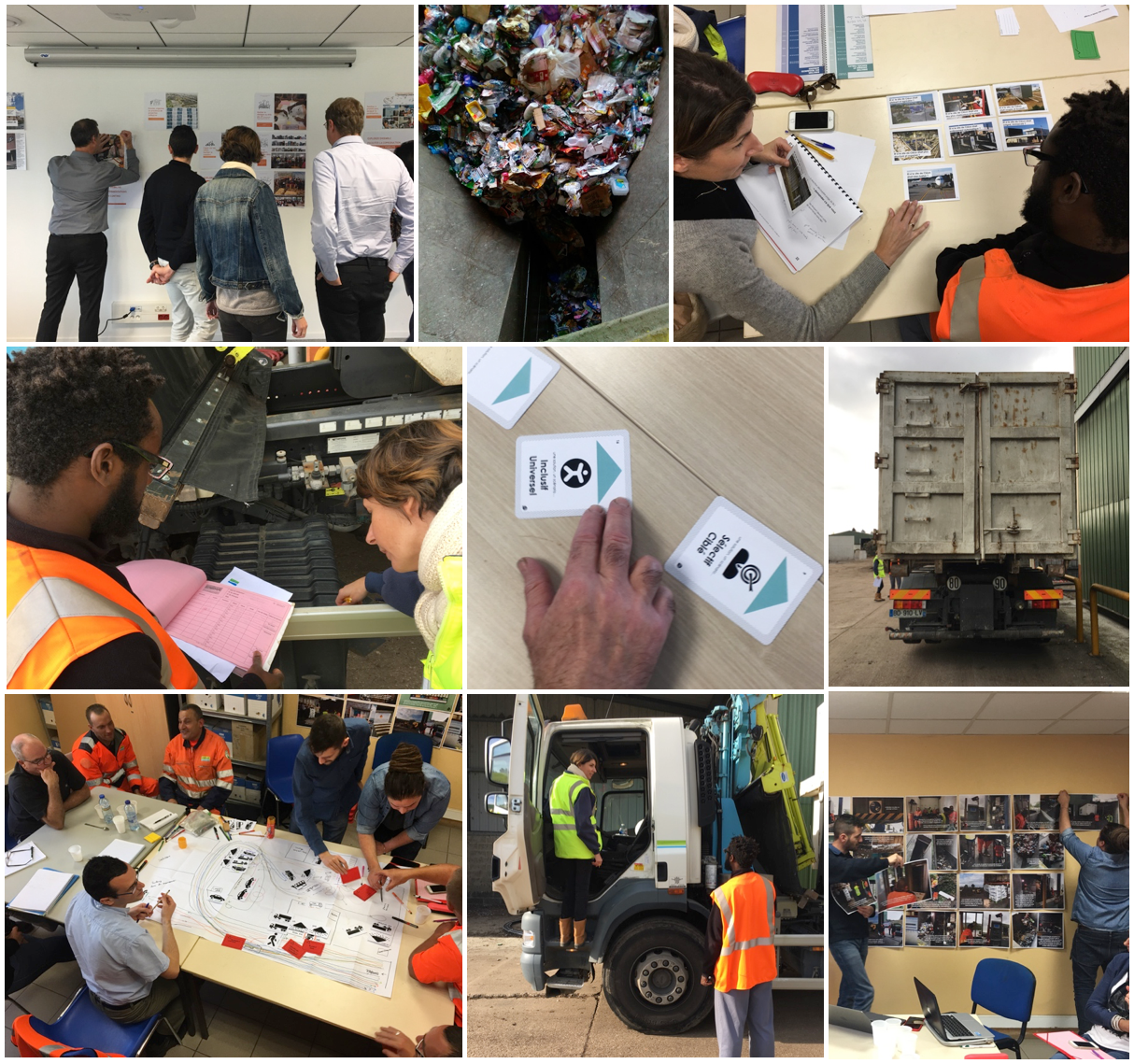 [english]
Thanks to this on-field application this training is trully action-based – contrary to standard classroom training. Together with SMEDAR and the city of Rouen's mixed syndicate for waste disposal, SDS has been experimenting how training the entire team managing 250 employees would actually help them grasp a better understanding of the design processes and tools related to public action. But also how redesigning the SMEDAR's transfert platform, in Cléon on the outskirts of Rouen, would actually serve as pretence leading to setting up a design/innovation Unit by SMEDAR's users.
This training enabled innovation director Karine Bruyant and her assistant Lydie Cheron to actually try out and "be" the future Unit "boots on" the disposables transfert line. This experience is a way for the field officers and the management team to get used to how innovation by design works, within their own compagny, while also preparing upcoming changes.
This experiment "strikes two birds with one stone" according to SMEDAR's CEO, Christophe Lannier with whom SDS co-imagined this experiment.
[français]
Il s'agit bien d'une « Action-Formation » soit l'inverse de l'habituelle formation en chambre avec à exercice d'application terrain : avec le SMEDAR, le Syndicat Mixte d'Élimination des Déchets de l'Arrondissement de Rouen, SDS expérimente d'une part comment une formation diffuse à l'ensemble des équipes d'encadrement de cette administration de 250 agents peut faciliter leur appréhension des processus et outils du design appliqué à l'action publique et, d'autre part comment une action concrète comme le redesign de la Plateforme de transfert du site du SMEDAR à Cléon en périphérie rouannaise peut être le prétexte et le moteur de la mise en place d'une Cellule design/innovation par les usages au SMEDAR.
Cette formation « bottes au pieds » sur le quai de transfert de déchet permet à Karine Bruyant, Directrive innovation et son assistante Lydie Cheron de pratiquer la future Cellule tout en la constituant. Pour les agents de terrain et l'équipe de Direction, c'est une manière de s'acculturer ensemble à l'innovation par le design en développant un projet interne tout en préparant les prochains.
Pour Christophe Lannier, Directeur général du SMEDAR avec qui SDS a imaginé cette expérimentation, c'est en quelque sorte un « 2 en 1! »
---
Partners
Syndicat Mixte d'Élimination des Déchets de l'Arrondissement de Rouen