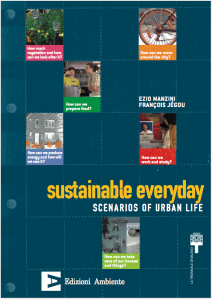 SUSTAINABLE EVERYDAY
Scenarios of urban life

AUTHORS
E. Manzini, F. Jégou
with contributions from: F. Butera, B. de Leeuw, G. Mojoli, W. Sachs, A. Seassaro, J. Thackara and from A. Formentini, J., A. Meroni, P. Rosa
PRESENTATION
What might everyday life be like in a sustainable society? How do you take care of yourself and other people? How do you work, study, move around? How do you cultivate a network of personal and social relationships and create an undistorted relationship with the environment?
What do the sustainable societies we are able to imagine today have in common? How wide a range of options do we have open to us on the basis of these common elements?
Sustainable Everyday offers us a state-of-the-art picture based on the answers we are in a position to give to these questions today. It goes on to outline possible scenarios and workable alternatives applicable in the wide, though not all inclusive, field of the everyday dimension of existence (the world as we, its inhabitants, see it). Particular reference is made to the urban environment (whether historical cities or the up-and-coming new conurbations). It deals with the future of our domestic lives, but it does so in a very different perspective from the many examples of "future homes" we are used to imagining. The focus is not on the technology which is to reshape traditional functions, but rather on emerging "living strategies" which are becoming possible and, at least for some, desirable today; different ways of living that arise more from social and systemic innovation than from technological development.
The book, which is also the catalogue for an exhibition of the same name, is the result of an international research programme and a series of 15 design workshops in 10 different countries. They lay out a detailed scenario of sustainable everyday life: a scenario which sets limits and opens possibilities; which raises new questions, offers new solutions and reveals possible, different ways of living. It leaves the reader, and the visitor to the exhibition, space to form his own opinion and make his own choices.
Sustainable Everyday talks about the future using the tools of design: design which, in this case, does not prefigure tomorrow but takes part in shaping it.
(Septembre 2003)
*
DOWNLOAD
To download this book in english.