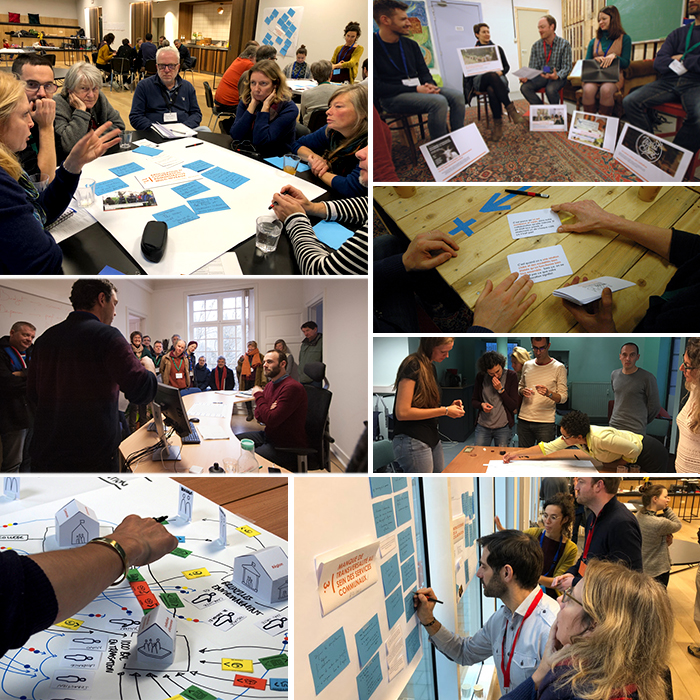 [english]
How could the local power and citizen organizations better collaborate to foster resilient local dynamics in favor of the environnement?
Many citizen initiatives have taken place in the Brussels area. They are made of all shapes, types, sizes with diverse and mixed ambitions. They take part in building common goods for the neighbourhood, to better the city and to strengthen urban resiliency. Despite their growth, these initiatives are faced with many turbulences and challenges which endanger them.
On their side, municipalities and the Region have invested in developing environnemental policies and helping out initiatives on a daily baisis as well as through more structured programmes such as the local Agenda 21, etc. However the local powers are still feeling their way along with regards to interracting and creating collaborations with these new citizen organizations.
The project aims at inventing new innovative shapes and tools to better this collaboration. It also experiments different solutions within living labs in order to improve how to collectively build the city.
---
Partners: Brulocalis, Bruxelles Environnement, Fondation pour les générations futures, 21 Solutions
---
Links: More info here : vilco.brussels
---
[français]
Comment pouvoirs locaux et collectifs citoyens peuvent-ils mieux collaborer pour développer la résilience des dynamiques locales en faveur de l'environnement ?
La Région bruxelloise compte nombre d'initiatives citoyennes, de tout type, de toute forme, d'ampleur et d'ambitions riches et mélangées. Elles participent à construire des biens communs, pour le quartier, pour une meilleure ville, pour une meilleure résilience urbaine. Malgré leur croissance, ces initiatives font face à de multiples turbulences et défis qui les mets en péril.
De leur côté, les Communes et la Région développent depuis longtemps des politiques en matière d'environnement et d'accompagnement des initiatives : au quotidien, mais aussi au travers de programmes structurés, comme par exemple les Agenda 21 locaux, etc. Cependant les pouvoirs locaux en sont encore au stade du tâtonnement sur leur manière d'interagir et de nouer des collaborations avec les nouvelles formes d'engagements citoyens.
Le projet s'intéresse donc à inventer de nouvelles formes et des outils innovants pour améliorer cette collaboration et expérimente au sein de livings labs différentes solutions pour mieux organiser la co-fabrique de la ville.
---
Partenaires: Brulocalis, Bruxelles Environnement, Fondation pour les générations futures, 21 Solutions
---
Liens: Plus d'infos ici : : vilco.brussels