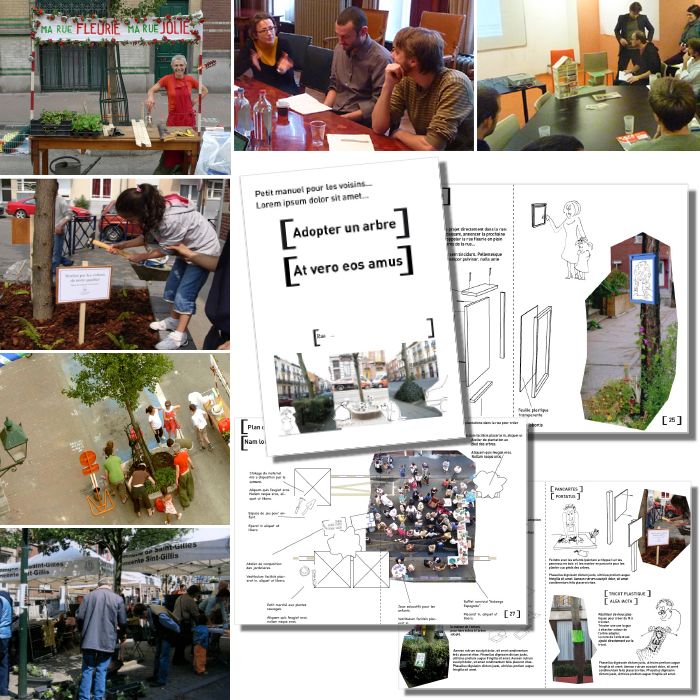 Adopt a Tree Handbook was designed with local population and Saint-Gilles municipality civil servants to engage citizens in taking greening actions in their streets in the framework of Agenda Iris 21 local sustainability process of Brussels-Capital Region.
How can we engage citizens in local sustainable transition processes?
The Brussels-Capital Region supports since 2007 municipalities of the city to develop their Agenda 21 action plan trying to balance top-down programmatic process with stimulation of population participation.
SDS proposed to focus on the Plan actions towards greening the public space and in particular planting the squares of earth available at the bottom of trees in the streets.
With citizens already involved in this type of actions together with the streets and parks civil servants an Adopt a Tree Handbook was developed. It is composed of a set of post-cards showing through a selection of cases the benefits of undertaking a tree greening process, a customizable and self-printed manual presenting the synthesis of many tree greening experiences in the form of story-telling and a simple annual planning to stimulate organization and anticipation and match citizen initiative with public authorities action processes.
---
Partners :
Municipality of Saint-Gilles (BE)
IBGE Brussels-Environment (BE)
Strategic Design Scenarios (BE)
---
Link :