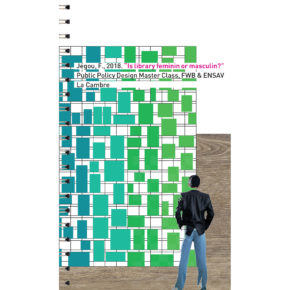 Is library feminine or masculine ?
What if library books were organized by book cover color? Would we then manage to avoid a gender-based classification? Or what if the readers were encouraged to track down gender stereotypes in the books they borrow? Would that generate an educational exhibit? In other words, how could we rethink public libraries so that they can play a role in reducing, or at least not further exacerbating gender inequalities? This was the topic tackled in the Public Policies Design exercise mixing first year student of Masters degrees in Industrial Design, Interior design and Textile of La Cambre National School of Visual Arts Brussels.
Download Pdf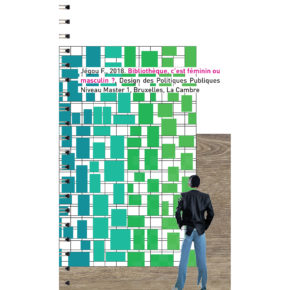 Bibliothèque, c'est féminin ou masculin ?
Et si les livres d'une bibliothèque étaient classés par la couleurs de leurs couvertures, est-ce que l'on réduirait les effet de classifications trop genrées ? Ou alors si les lecteur. trice.s abonné.e.s étaient incité.e.s à traquer les stéréotypes de genre dans les livres qu'ils.elles empruntent, est-ce que cela pourrait générer une exposition didactique ? En d'autres termes, comment peut-on repenser les bibliothèques publiques pour qu'elles réduisent, en tous cas qu'elles n'accentuent pas les inégalités femmes-hommes ? C'est le sujet travaillé cette année autour du design des politiques publiques avec les étudiants en première Master Design industriel, Architecture d'intérieur et Textile de l'école de La Cambre.
Télécharger le Pdf