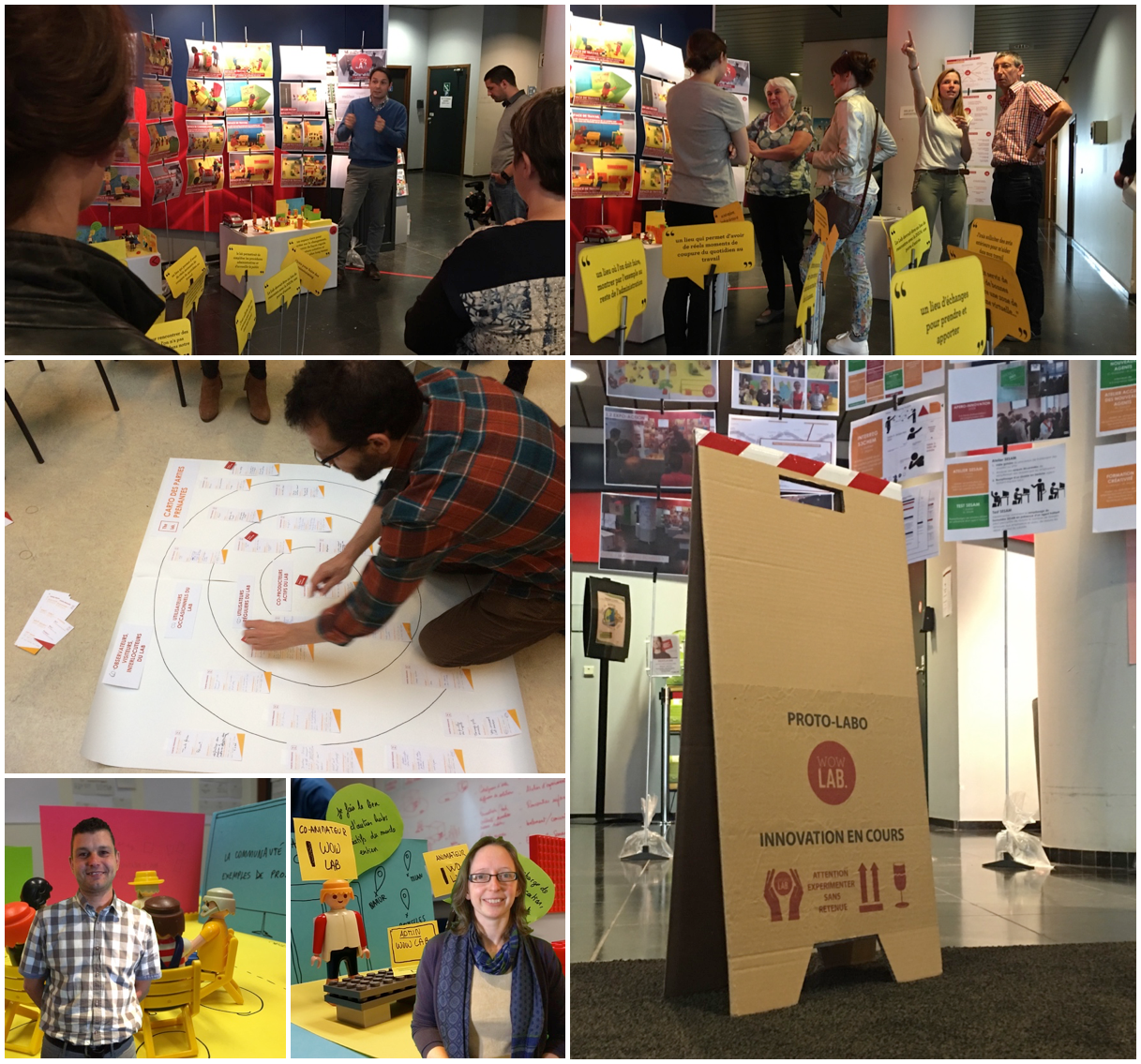 [english]
"The gap between what our administration preached as general executive manager of economy, employment and research and it's actual ability to innovate, kept on growing." says Isabel Quoilin, DGO6's CEO. This reflects the general feeling shared by the employees within that part of Wallonia's Public Services.
Partnering with USAGES – an agency specialised in user centered space design – SDS set up an innovation lab co-elaboration process with the DGO6's teams. The moto here of course was "doing before thinking" which means all agents and external partners started working together. They switched on "lab mode" with the intent purpous to extract a definition, tools and the future lab's values from the following multiple practical experiments of design-driven innovation processes :
A "Meet all the stake holders tour" within SPW and involved actors in Wallonia ; an "Action-based-Exhibit" taking place through out the entire entrance hall and therefore making all agents walk through it ; a "ProtoLabo" which task is to make all management departements experience innovation at some level, from SESAM's employment support to welcoming new employees ; from S3CHEM Interreg program to Minimis State help, to the lab layout in CODI itself…
[français]
« Notre administration était de plus en plus en décalage entre ce qu'elle prônait en tant que Direction générale opérationnelle de l'Économie, de l'Emploi et de la Recherche et sa propre capacité à innover » déclare Isabelle Quoilin, Directrice générale de la DGO6 reflétant ce que pensent les agents au sein de cette partie du Service Publique de Wallonie.
SDS en partenariat avec USAGES spécialisé dans le design d'espaces centré utilisateurs organisent avec les équipes de la DGO6 un processus de co-élaboration d'un labo d'innovation. Bien entendu on « fait avant de penser » c'est à dire que l'on propose aux agents et aux partenaires extérieurs de se mettre à travailler en « mode labo » pour inférer à partir de multiples expérimentations pratiques des processus d'innovations design-driven la définition, les fonctions, les outils, les valeurs du futur labo :
« Tournée des parties prenantes » au sein du SPW et des acteurs impliqués en Wallonie ; « Expo-Action » qui occupe tout le hall d'entrée et oblige les agents à passer au labo ; « ProtoLabo » pour faire gouter à l'innovation dans toutes les Directions, des aides à l'emploi SESAM à l'accueil des nouveaux agents ; du programme Interreg S3CHEM aux aides d'État de Minimis, de l'aménagement du labo au CODI lui-même…